On a rainy Tuesday, Carl Duzen pulls open the garage door to his Havertown home as his wife, Susan Jewett, watches from the dry kitchen.
He goes inside, dives into his toolbox — "he loves his tools," Susan says — and finds a screwdriver. An old clunker of a television is positioned under the garage's main light, and Carl starts unscrewing, pulling off the back and exposing the 'tube.'
The TV, one of those old cathode ray tube sets, was long ago considered obsolete by a neighbor, but Carl sees something valuable, beautiful in the discarded piece of old technology.
A scientist by training, Carl has taken to alchemy in the last two years, turning what others call junk into works of art.
'Not ashamed'
Carl, who turns 81 this August, was diagnosed with Alzheimer's disease during a 2014 visit with neurologist David Wolk at the Penn Memory Center.
"I didn't know what to do," Carl said. "I was kind of glum."
He searched for a coping mechanism and found one in the basement workshop.
Susan, 70, an artist and former art educator, was impressed by how Carl dealt with the diagnosis right away, saying that he continues to find ways to challenge his mind while also being pleasing activities to him.
"Carl said very clearly to me after that diagnosis, 'I just want to put one foot in front of the other.' " Susan said. She was surprised when she heard Carl in the yard telling neighbors about his diagnosis. "So this is the path he was on, and clearly was not ashamed of it."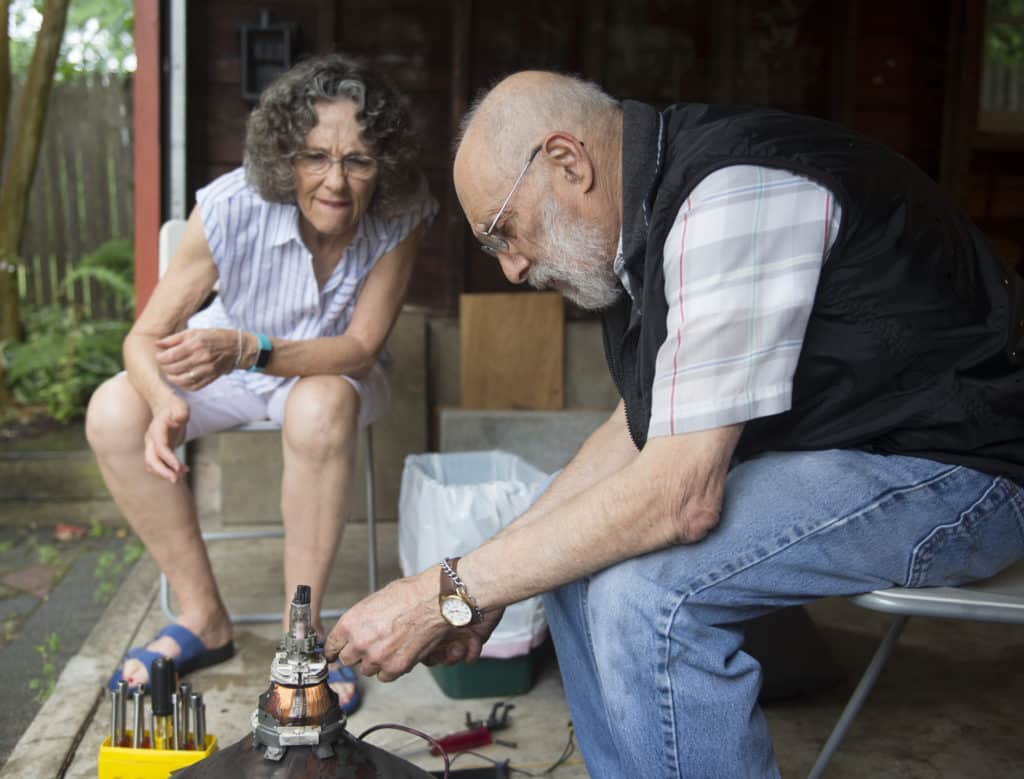 Designating Art
Once Carl developed a routine taking apart TVs, Susan began recruiting friends and neighbors to search garages and basements for old electronics. They began piling up, as did supplies.
Wandering through Carl's basement workshop one day, Susan noticed six bundles of cut copper wire arranged neatly in a row, Carl's organization strategy.
"It just struck me how really beautiful it was," says Susan, "and [I] decided that people would see it as beautiful if you put a frame around it, because that's how we designate art."
Those first few bundles are proudly on display in their home, along with much of Susan's art created over the years. As individual works, they would have made for a conversation starter for guests. But Carl, quickly understanding his wife's vision, continued to bring in various forms of copper up from the basement or in from the garage.
The two found the introspection of the art unique and inspiring, and so they began making plans to share it with the public.
A gallery exhibition entitled, "Carl Duzen: Copper // Denying Dementia Its Due," was held at the Main Line Art Center in Haverford. Carl and Susan are also the subjects of an upcoming documentary by independent filmmaker Mike Attie in partnership with Teya Sepinuck, founder and artistic director of Theater of Witness.
The gallery is a showcase of a work in progress. Carl plans to continue with the work "as long as I can get people to give me TVs and other things."
"Anything that has useful material in it, I want it."
________________________________
Chloe Elmer was a Penn Memory Center communications intern in 2017. She is now a freelance photographer. Her work can be found at www.chloeelmer.com.