Brain and neuroscience artist, Greg Dunn, dedicates latest piece to those with brain disease, caregivers, and all individuals dedicated to improving brain health.
by Meghan McCarthy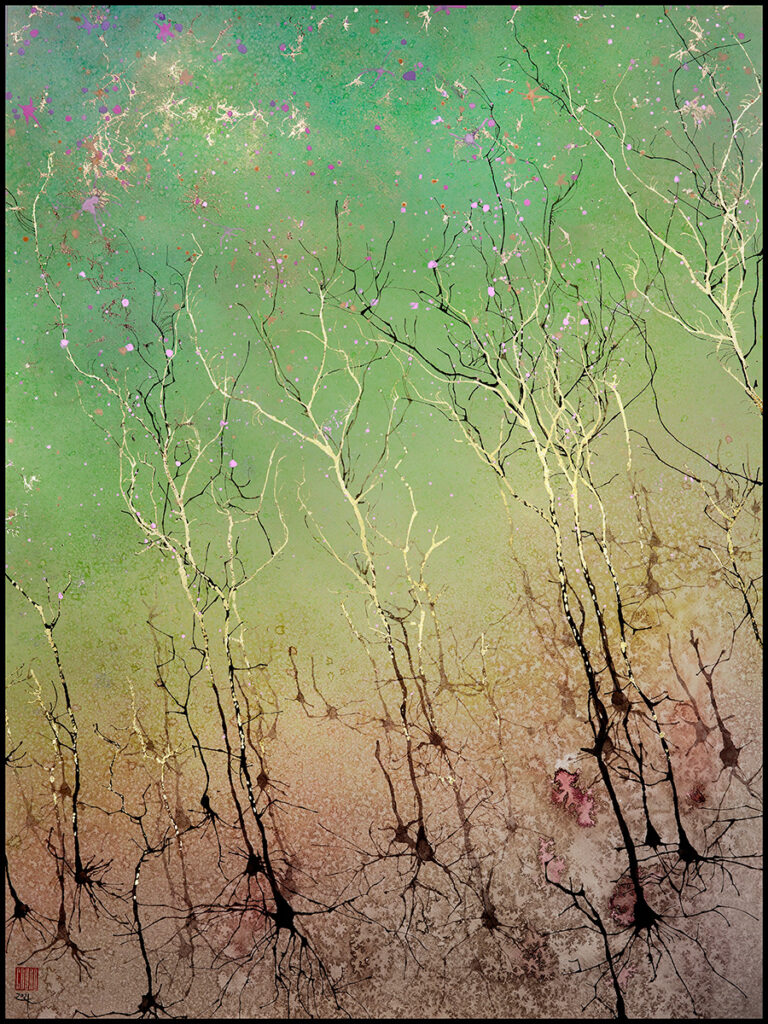 Darkened roots plant into brown hues of soil, growing vertically into a landscape of earthly greens. As if kissed by sunlight, gold illuminates the top branches, pink specks reflecting the light. Smaller shadows comprise the background, their growth not yet in season.
For some the newly released watercolor, Regeneration, resembles a small forest of trees. For those that know his work, its depiction of a neuron's rebirth may be easier to interpret.
While in graduate school at the University of Pennsylvania, artist Greg Dunn, PhD, began painting brain and neuroscience artwork. Combining a passion for Asian art and intricate forms of neurons, his work can now be found in the Franklin Institute in Philadelphia, Museum of Science in Boston, and National Gallery of China, to name a few.
"I hope that through my art that people can gain a deeper understanding of what makes us human," said Dr. Dunn.  
In September 2022, Greg revealed his latest piece, Regeneration.
"Regeneration is the brain's progression from sickness to health, trauma to resolution," said Dr. Dunn. "It is a barren landscape of degenerated neurons in the lower right sprouting lush new golden dendrites upward, the processes regenerating synaptic circuits that lead us to a thriving state of being."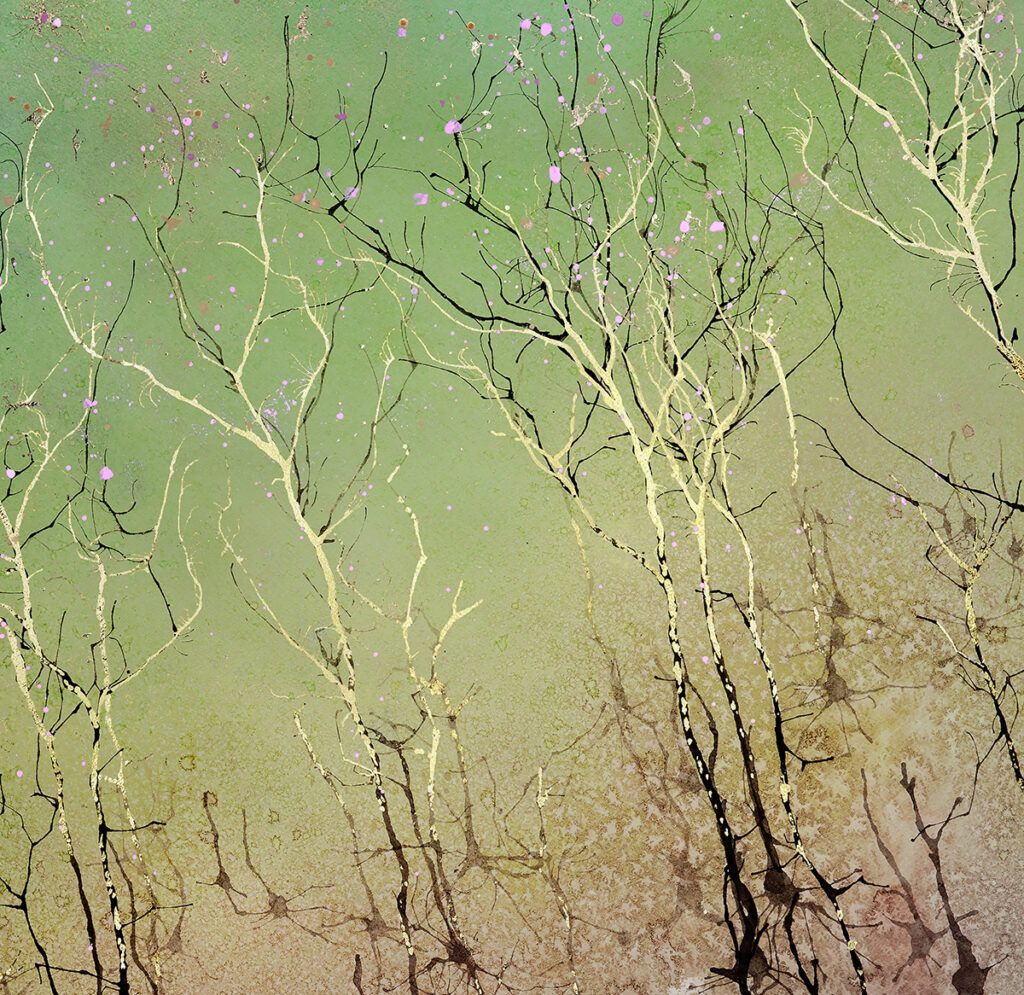 To create the piece, Dr. Dunn utilized ink and gold leaf on watercolor paper.
"I use a technique where I blow inks and gold leaf sizing (glue) over the paper to capture the beautifully chaotic branching patterns of neurons," said Dr. Dunn.
Connecting to his background in Asian artwork, Regeneration also features a Japanese technique called kintsukuroi. This traditionally ceramic method is used to repair cracks or broken pieces using gold.
"In Japanese tradition, this idea honors the wisdom and growth that we gain through suffering," said Dr. Dunn. "Similarly, this concept is used in Regeneration is a message of hope to all those who live with degenerative and/or debilitating conditions of the brain."
Dr. Dunn created the piece to also honor those who devote their personal and/or professional lives to the regeneration in others' brains.
"It is for the family members, caregivers, therapists, nurses, physicians, and scientists who make the foundational discoveries behind brain health and help us to take the necessary steps to improve our conditions to the greatest extent possible," said Dr. Dunn. "Thank you all so much for your tireless efforts, this is a difficult issue that has touched me personally as it has touched almost all of us in some way."
In addition to themes of gratitude, Regeneration is meant to inspire viewers who do have brain disease.
"I hope that Regeneration can help others see a glimmer of hope in their own personal situation, that in many cases brain health in many forms can improve, that there are others working tirelessly on all of our behalf," said Dr, Dunn.
Beyond Regeneration, Dr. Dunn is known for many colorfully detailed pieces, including one entitled Brainbow Hippocampus.
The hippocampus is an area of the brain responsible for learning and memory. In patients with Alzheimer's disease, the hippocampus is often one of the first brain areas impacted by the disease.
Jeff Lichtman, MD, PhD, and Joshua Sanes, PhD, first introduced the brainbow technique while working in the Center for Brain Science at Harvard University.
The lab technique places four colors of fluorescent proteins into each neuron to make them glow individually. Ultimately, the red, orange, yellow, and blue resemble a rainbow.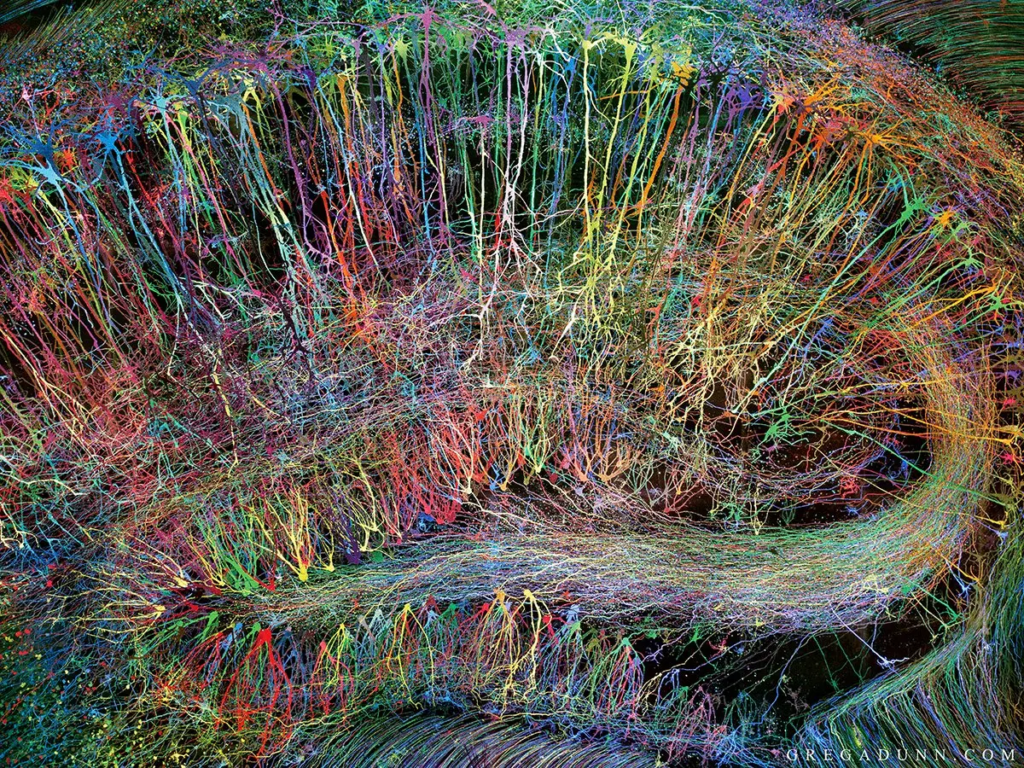 While the brainbow technique is used to label different neurons, Dr. Dunn utilizes microetching to depict this in his Hippocampus Brainbow and many other works.
"When illuminated by lamps of different colors, the colors mix and reflect off of the etching to give thousands of colors that change as the viewer moves around the piece," said Dr. Dunn.
Microetching is a complex combination of many artistic technics such as hand drawing and guilding, which is the process of adding thin gold to an art surface.
One of Dr. Dunn's primary goals is creating art that is easy for viewers to interpret and understand.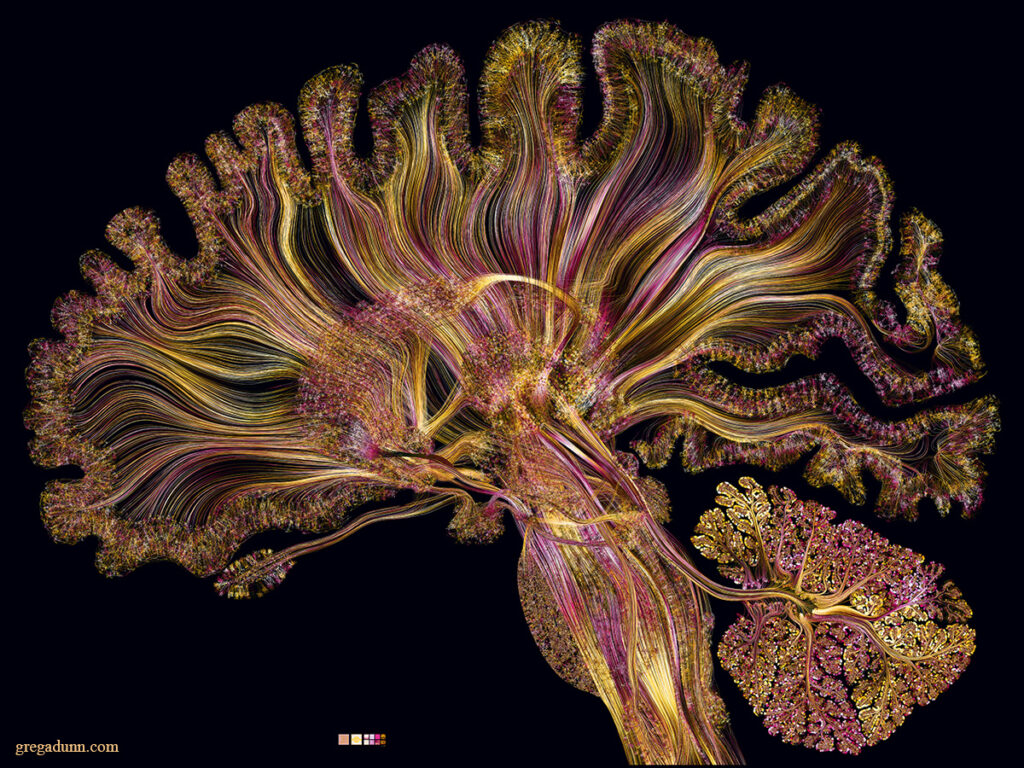 "I strive to make the anatomy and functioning of the brain more understandable. Our brains are our most precious and fundamental organ, our very existence depends upon them," said Dr. Dunn.  
To learn more about Dr. Dunn's work, please visit his website at: www.gregadunn.com