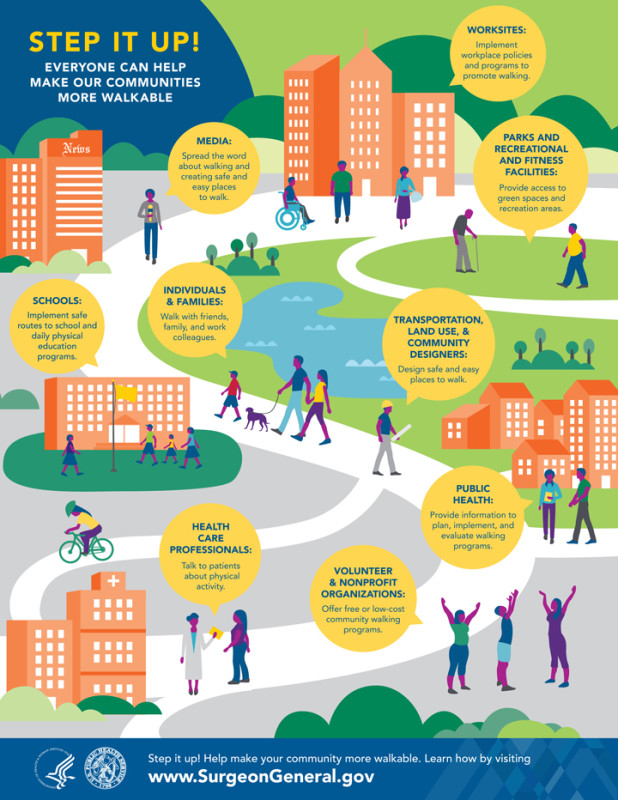 ​
Most American adults recognize the importance of physical activity for their cardiovascular and cognitive health, yet only about half get the recommended amount of daily exercise.
Surgeon General Vivek Murthy looks to change that with the new "Step It Up!" campaign promoting walking and walkable communities.
"The simple act of walking has the power to transform your health, and it begins with a single step," Murthy said. "So let's step it up, America. Make walking part of your life, and help others make it part of theirs."
Recognizing the benefits of walking is only the first step. Many Americans — especially senior citizens — face hurdles that they cannot leap alone.
"Many of us live in neighborhoods that can present barriers to walking," Dr. Murthy wrote in a public letter. "Important places, such as shops, schools, parks, or senior centers, may not be near enough to reach by walking; there may be no sidewalks; or there may be concerns about safety."
These problems were found and documented in a West Philadelphia neighborhood through research by Tobi Akindoju while working at the Penn Memory Center.
To correct these issues, the Surgeon General's plan lays out five specific goals:
— Make walking a national priority.
— Design communities that make it safe and easy to walk for people of all ages and abilities.
— Promote programs and policies to support walking where people live, learn, work, and play.
— Provide information to encourage walking and improve walkability.
— Fill surveillance, research, and evaluation gaps related to walking and walkability
While the government works on its plan, residents can take the initiative to improve their own communities for walkers by starting a regular clean-up effort or participating in groups such as neighborhood watch.
To add exercise into a busy lifestyle, the Surgeon General makes recommendations including walking during lunch or after dinner, taking public transportation instead of driving, and running errands by walking when possible.
"The journey to better health begins with a single step," Murthy wrote.