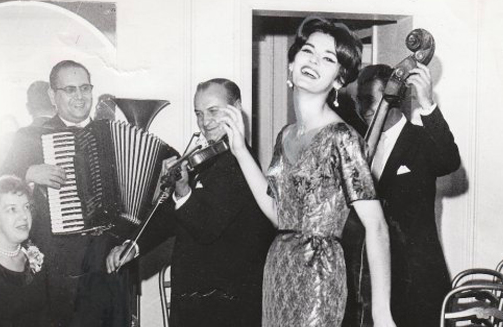 In the summer of 2000, Elizabeth Kadetsky attempted to pack the life she had built in California into her Toyota Corolla.  
She only had a few days to move her belongings out of the storage facility where they had been since she had left for her Fulbright Fellowship in Creative Writing to India a year prior. Even after hosting a yard sale and having some of her personal effects — including childhood photos of her mother and pictures of herself with yoga teacher B.K.S. Iyengar — stolen, she still had six boxes that wouldn't fit in her car, boxes that contained her writings, unpublished essays, and old journals. With 3,000 miles of asphalt ahead of her until she reached New York City, she wound up letting them go.
"That was the biggest mistake I ever made. And I've just never — it must have been 20 years ago — never gotten over it."
Over the course of two decades, she would try to reconstruct those essays from memory, trying to capture words that were once lost.
A few of the essays and several new ones came together in the form of "The Memory Eaters," a book that explores Kadetsky's journey to capture the memories her mother was losing as a consequence of her Alzheimer's disease through 13 essays. Published in 2020, the book is a summation of Kadetsky's personal experiences with different conditions that affect one's memory and perception of reality, including her own post-traumatic stress disorder, her mother's Alzheimer's disease, intergenerational trauma in her family, nostalgia, and her sister's addiction. A recipient of the first Juniper Prize in Creative Nonfiction, the book has garnered praise for its profound desire to puzzle out the past, and resolute journey to live with it in the present.
Kadetsky is an associate professor of English at the Pennsylvania State University, teaching creative writing in fiction and nonfiction. She has previously published a memoir titled "First There Is a Mountain" and two volumes of fiction, as well as various essays and stories. She is also a two-time Fulbright scholar.
*
When Kadetsky's mother was diagnosed with Alzheimer's in 2007, it seemed like a continuation of how she had always been and what Kadetsky had already been writing about for many years.
"My mother, even before the Alzheimer's, had always struck me as possibly traumatized or somewhat dissociated," Kadetsky said of her mother, Michele Langelier McKee, a fashion model in the '60s, '70s, '80s. "It really went with her model persona, where she was performative, but it was always a silent kind of performance. She was like an actress without speech, which is what a model is. And sometimes, she would just sort of strike a pose and then almost disappear in a way."
Living in New York City for most of her adult life, Kadetsky's mother, in her late 60s, would forget where she was walking to, leave pots boiling on the stove, and lose track of simple tasks. Soon, the apartment she shared with her first daughter, Jill, became decorated with sticky notes on furniture and appliances reminding her of medications to take and things to carry with her. A safe return bracelet was made for her, but she refused to wear it. She began wrist and wandering out into the city, disoriented and alone.
"There's a lot I didn't put in the book about how bad the support system was for my family, and you can extrapolate how this affected not just us," Kadetsky said.
Between 2009 and 2011, Kadetsky struggled with trying to find homecare aides or adult day centers for her mother. They were rejected for Medicaid-funded home care four times because her mother was physically healthy and often lied in interviews to seem needless of additional help. Kadetsky also felt immense external pressure to let her mother stay at home, despite the fact that she worked in State College, Pennsylvania, for most of the week and her sister was incapable of providing round-the-clock care. Financial support was hard to acquire as well, as Medicaid did not support dementia-related services in Pennsylvania, and she felt doors slamming from all sides.
Kadetsky also said that she felt the weight of the blame being pushed onto her constantly as she commuted to and from State College and New York for the duration of her mother's condition.
"There's an exaggerated responsibility put on caregivers who are in this position. It's different from having a child; you're not in 100% control," Kadetsky said. "I felt that the social services that I was dealing with were looking to me as if I did have that kind of 100% parent-type role with my mother."
Two weeks after her mother was found wandering the streets again, Kadetsky received a phone call from Adult Protective Services. She had assumed they were calling to provide help. However, she said they spoke to her in an accusatory manner, with the implication that she had been neglecting her mother.
"I get it. Nobody wants to admit that the system is broken. And so, there really is this tendency to blame the caregiver every time something goes wrong," Kadetsky said.
Kadetsky wished that the healthcare system had made it easier, at the time, for caregivers to seek the help they needed for their loved ones and themselves.
"I think most caregivers know this: There is a real difficulty when the caregiver is out in the world dealing with other people. […] That mentality of jumping in and out of the situation with their loved ones explains why caregivers are so vulnerable to stress and stress-induced mental illness themselves — it is really hard shifting between worlds in that way," Kadetsky said. "It wasn't that hard for me because I wasn't living with my mother. It was very hard on my sister."
*
"The Memory Eaters"' was a lifetime in the making. For a very long time, she had wondered about the family secrets that haunted her mother's past. The essays in the book follow Kadetsky as she traveled to her Grandmaman's house in Massachusetts, dug through her mother's possessions and talked to her relatives over the phone in an attempt to reconstruct her family's memories before they were lost to her. The book also dove into her sister's addiction and her own struggles with PTSD.
"I could see these paths coming together and showing something much bigger than what I was experiencing," Kadetsky said. "But then, at the same time, being in the thick of it, it was also very hard to see outside of it, but I knew I had to write everything down and tell the story."
Speaking with Making Sense of Alzheimer's in 2014, Kadetsky had said that she was interested in trauma as a "psychological and literary construct […], and the ways that trauma interacts with memory."
She continued to pull on that thread in "The Memory Eaters," carefully examining the ways in which the trauma theory resonates in her life. Trauma theory, Kadetsky described, suggested that traumatic memories are inscribed in the brain unfiltered and the rational part of the brain cannot process them and so, they continue to echo in one's mind as they are irrational and non-linear. She wrote about the connections between inherited trauma that carried down generations in her family, through her aunt's death, and the feeling of nostalgia — all of which distort the perception of reality.
However, with her mother's diagnosis, the questions she sought to answer began to change.
"Those pieces were a pretty big part of the book already. But then when my mother was diagnosed with Alzheimer's, it was clear to me that that was the story," Kadetsky said. "And in some ways, that would be the present moment of the book and the lens through which to go back through our personal history."
The title of the book is a twist on the Greek myth described in Homer's "Odyssey" of the lotus eaters — the men from Odysseus's ship visit an island populated by lotus trees whose fruit, when eaten, causes them to forget their loved ones and their home.
"I wanted to sort of push that reference to Homer because of my mother's interest in mythology," Kadetsky said. "The memory eaters are both poisoned by nostalgia and feed on it. All of these different brain states also feed on the mind. So, there's like a voraciousness to the memory eaters, which both devour memories and destroy them, and are also addicted to them."
"The Memory Eaters" is the culmination of years of writing, research and analysis of her family's memories, with Kadetsky weaving the stories to feel like an experience of the rational part of the brain meeting the irrational.
"I think the time was right for this book" Kadetsky said. "I'd been working on some form of it for 20 years. In a sense it had to wait until the field was ready for it. […] This is a book that's looking at consciousness and how Alzheimer's disease plays into that and how the brain works, while also trying to tell that story in an artful, magnetic kind of way."
On the cover of the book, in a blue tint, stands her mother. Tall — with her pale and close-toed shoes resting delicately on rubble — and her white-gloved hands spread out in a well-practiced pose, she is frozen, rooted in time.
"I see why [the publisher] chose it," Kadetsky said, "If you zoom out even more, then you can see she's literally standing on a destroyed building. That's just perfect. She's like a phoenix rising out of the rubble. And to me that represents memory. Nostalgia. What we see. What we remember is this, and then we forget what's down below. There's a substrata of chaos and disruption and damage."