Artist Ruth Blackford, whose work is featured on makingsenseofalzheimers.org, teaches young artists in the United Kingdom at St Dominic's Sixth Form College, Harrow-on-the-Hill, near London. Ruth has encouraged her students to explore Alzheimer's within their work. Two of these young artists – Kathleen Gorman and Mubaraka Shansuddin – are featured here.
Kathleen Gorman
Mubaraka Shamsuddin
---
About The Artists
Kathleen Gorman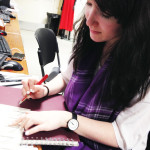 I am currently studying for my A Levels at St Dominic's Sixth Form College near London. For one of my recent art projects I chose the theme of "Memory." I thought this would be a good opportunity to learn about and create work based on my grandmother Kate, who is currently living with us, as she has dementia. Although my work is entirely made up of photographs/portraits/objects belonging to my grandmother, I attempted to reflect my experience of living with her and seeing the huge changes that occur due to Alzheimer's disease, and the effects it has had on my family. On completing my A Levels, I hope to study some form of art and design at degree level.
Mubaraka Shamsuddin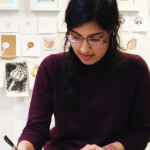 I live in London with my family of four others and I am a sixth form student, looking to go to University later this year. I am studying both the arts and the sciences, and I love to combine the two so that I am able to work expressively and learn about the functions of the body at the same time. Studying about how the body uses nerves and impulses to create memories in A level Biology this year inspired me to translate textbook words into drawings, which essentially carried me on to illustrate the repetition of an Alzheimer's sufferers' routines and their constant struggle to recollect memories. My current art project theme is 'Vistas' and, as an aspiring architect, I am enjoying exploring how one can view buildings from different perspectives, not just physically, but also mentally. This current work continues to feed my interest of mental health issues.