By Varshini Chellapilla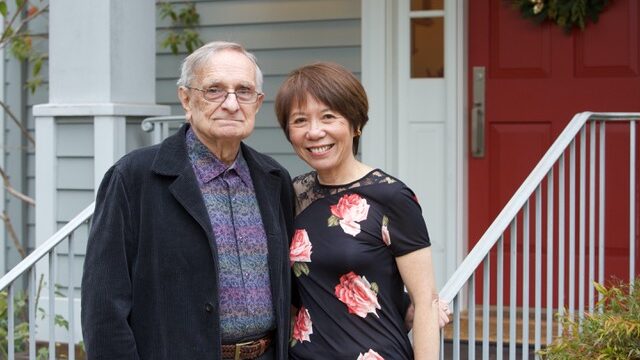 More than 30 years ago, Lena Chow Kuhar was part of a lunchtime running group at the company she worked with at the time. Running became a time for her to connect with her colleagues and friends, hear their stories and share her own.
"Running to me is a rather meditative sport," she said.
The group was also how she met her husband, Robert Kuhar. Together, they ran 26.2-mile marathons, through the foothills of California's Bay Area, and around their neighborhood.
In 2013, Lena brought Bob to the Penn Memory Center (PMC) for an evaluation. Former PMC Director Steven Arnold, MD, confirmed Bob's diagnosis of mixed dementia — a combination of Alzheimer's disease and vascular dementia — and, as is the case for more than six million people every year, Lena and Bob's lives changed forever.
"It changed our lives, in that our roles changed. It used to be him taking care of me and now it was the other way around," Lena said. "I carried the load willingly, but it was on me to function for two people. We were both depending on my physical and mental abilities to function and I recognized that fairly early on."
In January 2021, Lena released the first episode of her podcast, "Bob's Last Marathon: Living the Alzheimer's Journey," focusing on the five key elements of caring for loved ones with dementia. 
"I know that I learned quite a few lessons on the way and I felt like I should share them," Lena said. "I wanted to be useful. I realized that, if I could somehow get this information packaged in a way that people could get it easily, wouldn't that be helpful?"
Over the years, Lena began developing the podcast with her background in health and science communications. She wanted to create a way to deliver credible information in a simple and accessible format to "help jumpstart people confronted with the disease."
The podcast produces 10-minute-long episodes weekly, each one designed to provide information in the quickest way possible for busy caregivers. Ranging from personal anecdotes from her own experiences to guest experts sharing advice on improving the quality of life for loved ones, the episodes are carefully crafted to address four categories of caregiving: planning care, living well, building community, and facing challenges.
A formal advisory board, chaired by Dr. Arnold and consisting of experienced social workers, neurologists, and marketing experts, was created to vet information, contribute to the development of podcast content and bring awareness to Lena's efforts. PMC Executive Director Felicia Greenfield, MSW, LCSW, serves as one of Lena's advisors.
"I genuinely believe in Lena's message," Greenfield said. "Delivering information and educating the public about dementia and neurodegeneration is critical. Bob's Last Marathon is an accessible tool for raising awareness, reducing stigma, and 'normalizing' the experience of dementia and caregiving, and I was happy to play a role in shaping the content. It was also rewarding to work with Dr. Arnold once again as advisory board members."
One of the key issues Lena passionately addressed is that of denial. Coming to terms with dementia and the changes in loved ones is a tough process for many and is often life-changing in ways one might not expect.
Lena, personally, recounted that the signs had started small, almost escaping her notice. Her husband of 31 years forgot familiar subway stops in Paris, didn't remember to take important medications, or couldn't find their parking spot at the airport.
"I think a factor of the denial is just not wanting to face the reality, and some of it is just being so accustomed to the way somebody is," Lena said. "After knowing him for 30-plus years, and realizing that this person is changing because of a disease is tough."
Two years later, on a National Geographic tour of the Galapagos Islands, the early signs of Alzheimer's in Bob became undeniable. One night on the ship, he woke up disoriented, wondering where he had parked his car. He walked up and down the hallway, opening every door, in search of his car.
"The evidence was too obvious to avoid then," Lena said.
The wave of denial was a phenomenon that Lena learned, later on, was common among caregivers in her position. By sharing her own experiences through the podcast, she hoped caregivers felt less alone in their situations.
"When people hear about problems that I encountered as a caregiver and they too are experiencing them, there is a connection: 'Oh, it's not just me,'" Lena said.
In the most recent episode, PMC Director of Cognitive Fitness Programs and Neuropsychological Services Dawn Mechanic-Hamilton,PhD, ABPP/CN, was invited as a guest speaker to discuss the many ways that cognitive fitness exercises can be implemented in day-to-day routines to improve quality of life. The episode, released March 10, detailed how social workers and neuropsychologists at PMC work with caregivers to develop engaging activities that help build skills to face cognitive challenges and create compensatory strategies. Dr. Mechanic-Hamilton also stressed the important role that physical exercise plays in maintaining physical and cognitive health.
"When I learned it was important to the health of a person with dementia, I realized that I would need to consciously continue to make exercise a part of Bob's routines," Lena said in an episode titled "Five Key Elements of Dementia Care."
A few years into his disease, mobility issues required Bob to stop running long-distances. However, Lena and Bob continued to pursue alternative paths. Bob continued to lift weights, played basketball, and used a walker to replace his habit of running.
The couple's passion for running also inspired the name for Lena's podcast.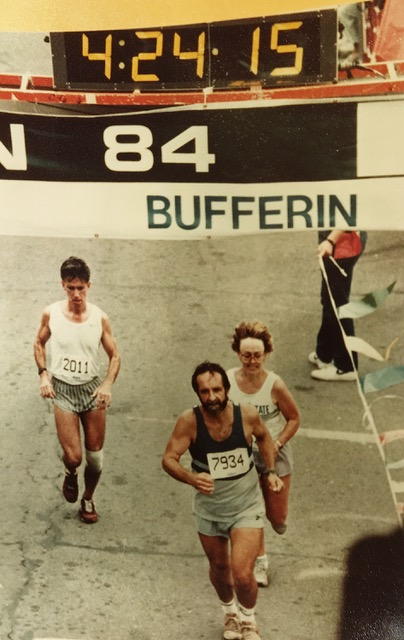 "I chose the name 'Bob's Last Marathon' because the marathon is a fitting metaphor for the Alzheimer's journey," Lena said. "It is long and challenging, is both mental and physical, and requires determination and commitment. It is no sprint, as I said in one of the episodes."
Bob's last marathon was the San Francisco Marathon in the late '90s, for which he trained by running over 50 miles per week. He passed away in 2018, six years after his initial diagnosis.  
Click here to listen to Bob's Last Marathon and learn more about the podcast.