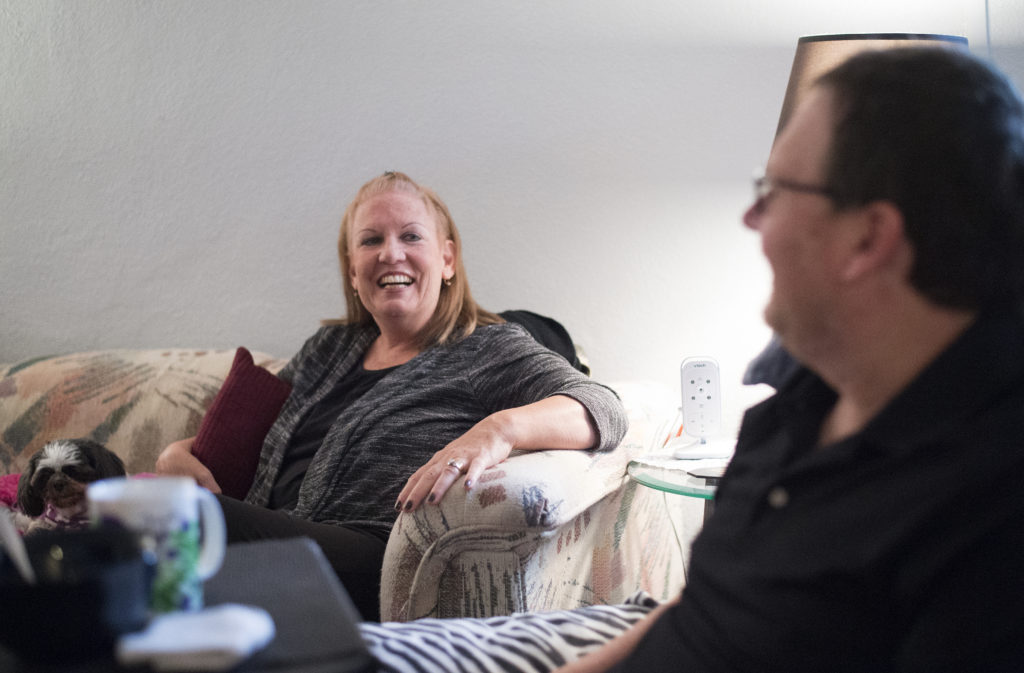 In 2010 we were hiking on this huge mountain in Arizona. I got scared, and I didn't want to climb it. I wanted to go back. But there had been a rain, and all the signs were knocked out. Two other women wanted to go back to the base with me, and we got lost.

We're in this valley, and none of us knew which way was North or South, and it was getting dark. I was so scared. I started to panic, and one of the women was crying, but we decided to be strong, and we just started walking up. We figured we'd just go towards the sky. We crawled and we climbed and we got cut, but we made it to the top and we found our way back down.

That is what every day is like as a caregiver, for me. I wake up and I say, 'I'm lost in this valley and I don't know how I'm going to get to the top.' But every day I have to."
Since her husband Frank was diagnosed with Alzheimer's disease at the age of 55 in 2016, Susan Ellis has taken on the role of caregiver. Self-care, however, took a back seat, and Susan grew increasingly stressed. With the help of the Penn Memory Center, she applied for and was awarded a one-time Hilarity for Charity grant for 25 "respite hours," when a professional caregiver would step in to give Susan some time to herself.
Hilarity for Charity (HFC) was founded in 2012 by comedian Seth Rogen and Lauren Miller Rogen to raise awareness of and accelerate treatment options for Alzheimer's disease. Groups like HFC or The Purple Sherpa, Susan's network of fellow caregivers, have provided her with the tangible tools and opportunities necessary to be an effective and upbeat caregiver to her husband. The time off from caregiving has given Susan the opportunity to spend time with friends, go out to restaurants, and see the movies she loves.
What were the first signs that your husband's health was deteriorating?
He worked as a sheet metal worker in the landscaping business. He'd drive an hour to work, he'd drive back home, he'd do work around the house. He seemed healthy and like he was getting along okay. Then in 2013, July 5th, he crashed my car. After that, he was shuffling, he was hunched over, he couldn't remember, he couldn't follow directions, he had bad depth perception. He would call me when he was at work and say 'I don't know where I'm at.' But after EEGs and so many kinds of tests, they just couldn't find anything. We switched neurologists a few times until we found someone at University of Pennsylvania. Frank, at that time, was going alone to see the doctor.
He wasn't articulating what was happening, these episodes he was having where he would disappear. I call it going into the abyss where he couldn't think or write. He'd just fall asleep then wake up and be just gone. I had no clue what was going on. And so many doctors just kept saying he was okay, and I believed the doctors. I thought my marriage was breaking up because he wasn't communicating to me. I'd say black and he would say red; I would say three, four, five, and he would say five, six, seven. It was craziness.
When did Alzheimer's disease appear on your radar?
He went to see a doctor in 2015, and the doctor noticed that something was not right. But Frank didn't tell me right away. The doctor made him take a memory test and the result said dementia with behavioral issues. But Frank didn't show it to me. He tells me now that he never read it, but who knows. I never thought that it was Alzheimer's or dementia, because that's for old people. That's not what young people get. So I thought. But I'm watching him just struggle. He was getting exhausted, having problems driving 'cause of his reaction time, then he'd argue with me. Then it all came to a head. He got written up at work, after 11 years, and in January of 2016 he came home shaking. He was almost in tears. And he showed me his old results from memory tests, and everything made sense. And I said 'Frank are you ready to say there is something wrong? You can't go back to work. We've got to find out what's going on.' And he said yes.
We went to the doctor together and I brought in lots of notes. The doctor told us it was some kind of dementia, and Frank just asked for something to make him get better. It broke my heart. The doctor told him there was nothing we could do for him, there's nothing we can do for dementia. It was like someone hit us on the head with a brick. That really began my journey. They call it the long goodbye. I call it the long goodbye to hell. I was 58 and he was 55. Everything we had planned and dreamed — our retirement, our savings, we were going to move to Florida — Alzheimer's wiped it out.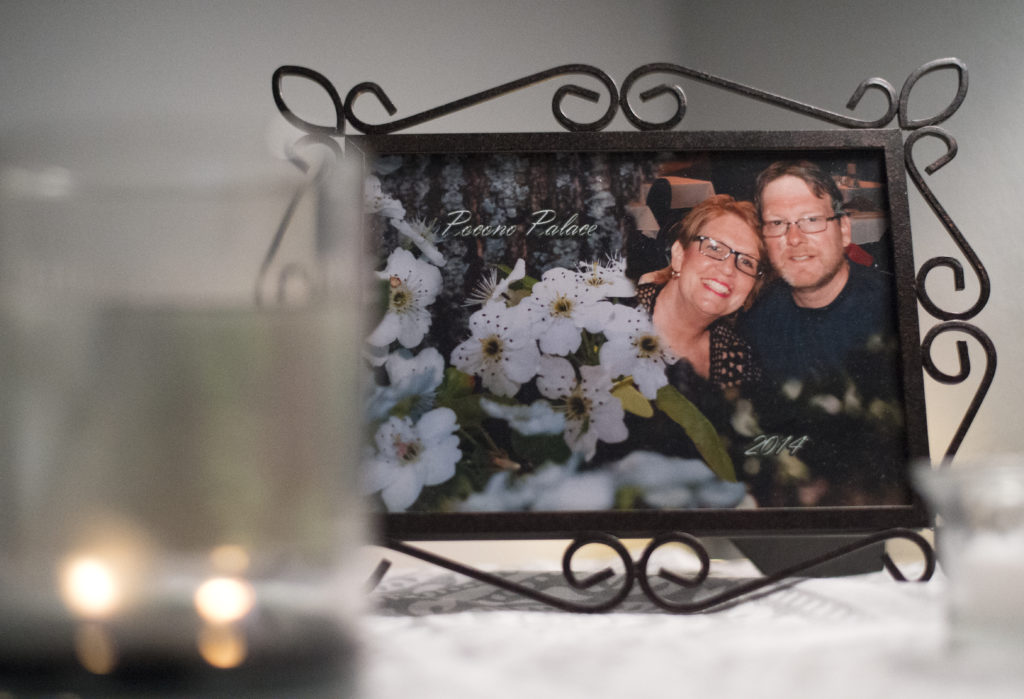 When you look at your husband, what do you see?
I see a kid. It can be so hard to look at him and see him as the man that I married. He rebuilt the entire basement in our house, and sometimes he'll go down there and just not have any clue what room he's in or what the doors lead to. It comes and goes. He understands some things, but one minute he's standing next to me, and then the next minute he's gone. We'll be watching TV, and his eyes will glaze, and he's in the Alzheimer's glaze, then all the sudden he's in the abyss and he's gone and he can't talk. He can't tell me what's wrong. He can't walk. It's awful. And all I can do is comfort him. And he gets scared and petrified.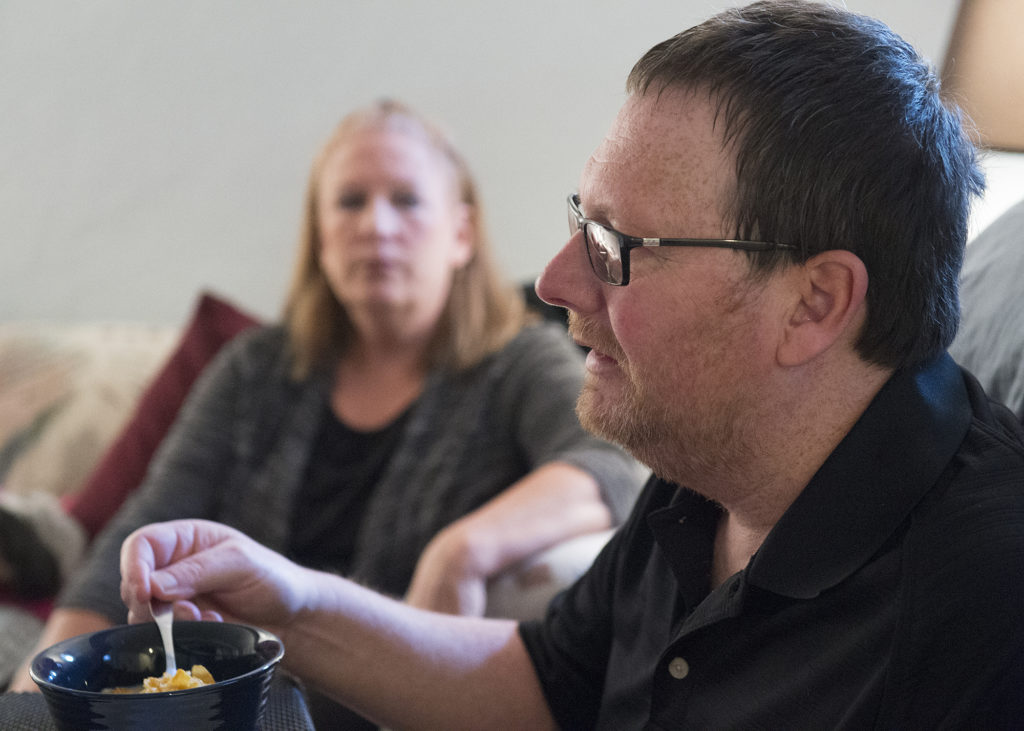 What do you do to comfort him?
I tell him to go to heaven, that he's going to get the fast-track and he's going to get his angel wings for sure. And when he gets there, he's not going to have any diseases, and he will be with his mother and his father who he hasn't seen since he was 10. All of his pet animals will be there waiting for him. And when God is ready, he will take him. And I will be okay. I am going to donate his body to science so that he will help others. He will leave a legacy, and I will fight until my last breath to be an advocate for Alzheimer's and dementia and to make people aware that this is not just an old-age disease, but more and more young people are affected by this.
How have you grown as a caregiver?
It's not always pretty. To be honest, some days I feel like staying in bed. I feel like my life is over, and that the future is bleak and that Alzheimer's is this monster with an identity that just takes over. But I've learned to just stay calm in those moments. We've gone through all of the phases, and I've tried to stay strong. When I have to holler, I holler; when I have to be calm, I am calm. There's some things I can say to him and some things I can't. I try to be very honest with him. Sometimes he won't understand, and sometimes I try not to upset him, but when he asks me what's wrong or what's going on, I'll explain that he's sick and I'll explain the disease in any way that might make sense to him. I'll liken his neurons to wires or that his brain is like the engine of a car. And he understands sometimes. And then I've reached out to every group and every organization.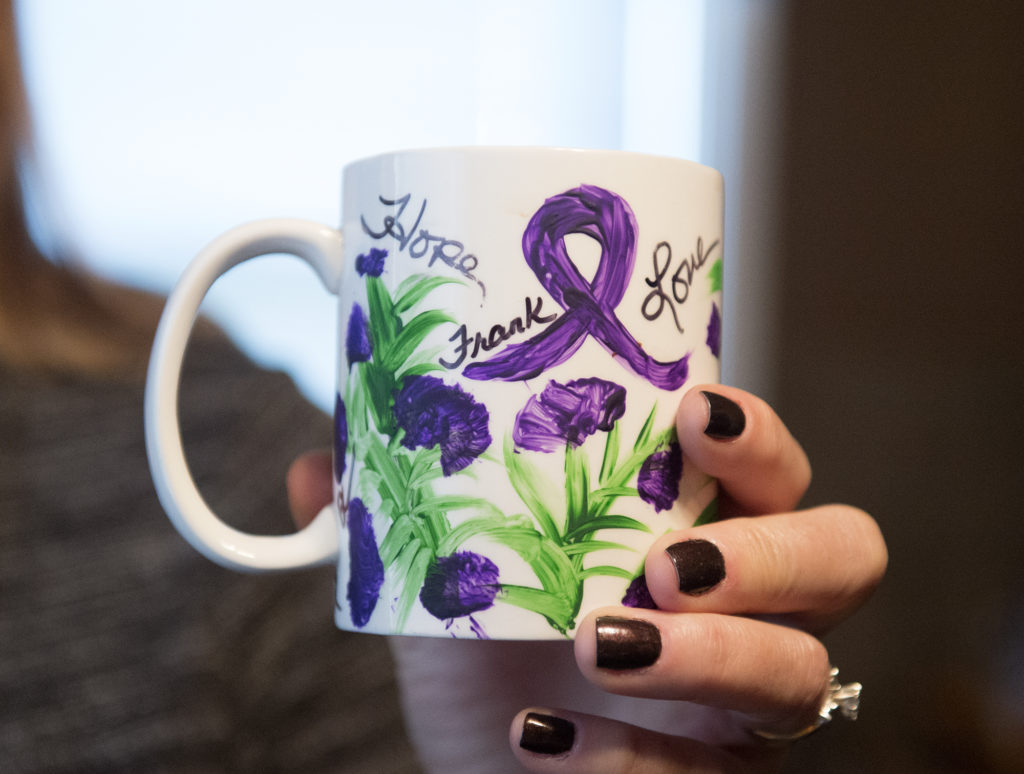 The only thing I know to do is fight for him, fight for others, and fight for awareness and funding. Caregivers need help because there are so many of us who are so burnt out. This disease is so confusing and consuming and no two people are the same. So no case of Alzheimer's is identical. My respite hours are also amazing. I go out to lunch and I get my nails done. And one of my friends saw me after that and she said, "you look 10 years younger." Because I was so relaxed, I wasn't worrying. It helps, but coming back to him after those breaks is tough.
And then sometimes he's just so… The other day he was sitting in his love chair and he turns and says to me, "Thank you for yesterday. I had a great time." And that was emotional. It tears at my heart. There's times when I feel so awful for him that it makes me want to cry, but I can't because he gets upset when I cry. So when I cry, I'll have to cry by myself, so he won't see. I try to hold it in, but it comes out, then I suck it up and power on. There's this emotional, stressful turmoil constantly. But I love him. I do. I love him and I'm fighting for him and for me.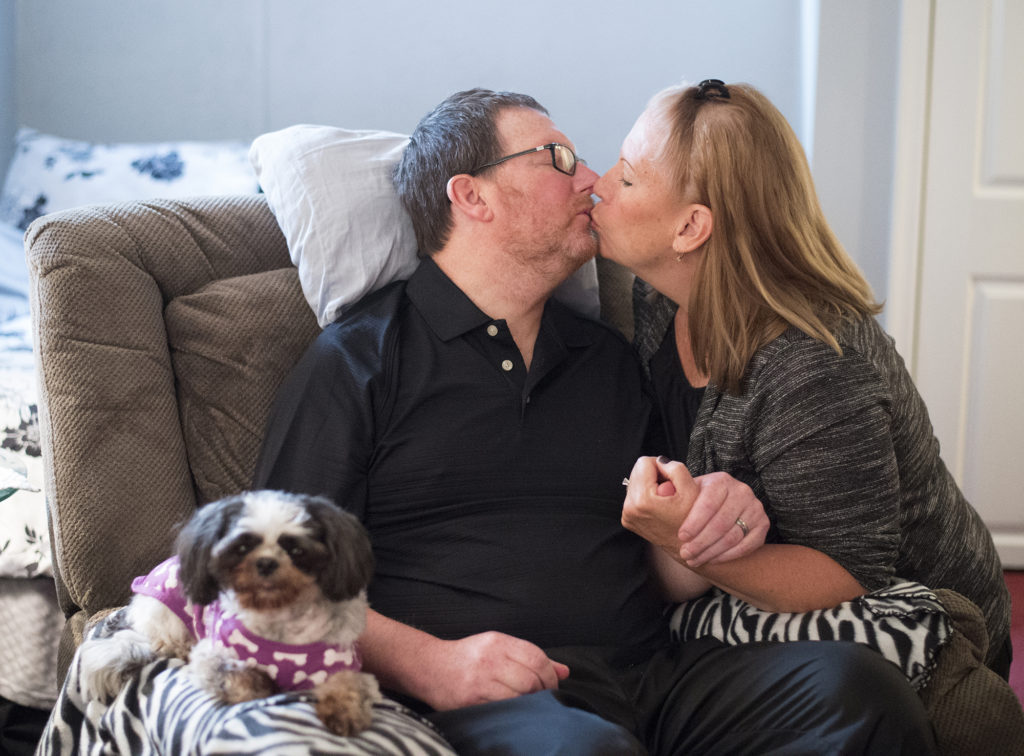 *This interview was condensed and edited for clarity.
If you're a caregiver in need of assistance, the Alzheimer's Association 24/7 Helpline provides reliable information and support. Call toll-free anytime day or night at 1.800.272.3900.